Message from Board President, Charlie Leo
This is an exciting time for the Natomas Arts and Education Foundation (NAEF) and the communities, organizations, and individuals that we support.
NAEF was established over fifteen years ago, however, this is the first time in our history that we have transitioned away from operating as a volunteer-only foundation.
NAEF recently hired long-time associate Sierra Hersek as our full-time Director.  We are very excited to have Sierra take on this role, particularly with our recent time-consuming and ambitious goal of expanding into a membership organization by this fall.
NAEF continues to enhance the quality of and access to arts and education in the Natomas community by funding student-involved public works projects, community performances, student art projects, general teacher support and numerous other ways.
One of NAEF's largest contributions to the community is the ongoing support of the Benvenuti Performing Arts Center, which is an art beacon for both Natomas and Sacramento.
This year it became apparent that the theater's house lights were fading out after almost a decade of use.  Rather than attempting to replace the existing fluorescent bulbs, we replaced these lights with modern LED fixtures that should last at least fifteen years.
This $30K project is an example of how NAEF supports arts and education projects that are environmentally sound as well. The fixtures will be cost effective and use roughly 20% of the energy of the previous fluorescent fixtures.
Outreach and Partnerships
In addition to our local community, international outreach is still, and will continue to be, a very important component of NAEF's objectives.
This past year, NAEF in partnership with the Anderson Foundation sent another group of teachers and students from Natomas Charter School's Performing and Fine Arts Academy to China for the final phase of its One Voice China project.
With NAEF likely receiving additional funding from the Anderson Foundation, we will be able to support a new One Voice project to Costa Rica scheduled for the next two years.

Become a Member of the Natomas Arts and Education Foundation
The Natomas Arts and Education Foundation is truly a labor of love, however, we can only make contributions when we receive them.
It is fellow community members and organizations that help NAEF succeed.
We are excited to announce, for the first time in our history, an opportunity for you to become a Member of NAEF and be a part of the Heart of Art in Natomas. Please become a member of NAEF today!

Thank You for Your Support
To date, over $3,000 has been granted to support projects throughout the community. Several Natomas Charter School Academies including PFAA, PACT and VLA have projects NAEF is helping fund. In addition, NAEF is supporting a new school in the community, Natomas Unified School District's Paso Verde, with a grant toward their Art Docent Program.
If you are a local teacher, administrator, or student with a project that aligns with our mission, please click here to learn more about NAEF grants. Our next grant application deadline is August 15th.
Don't wait until next year to support NAEF, just click here to make a donation anytime!
NAEF at the Natomas Farmers Market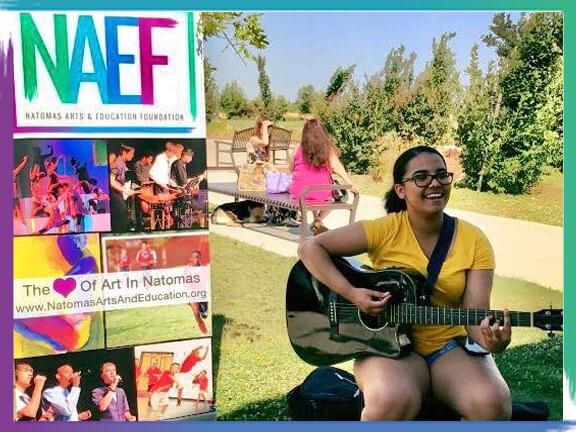 We have had so much fun coordinating with Angelique Ashby's office to offer several young musicians the opportunity to perform at the Natomas Farmers Market.
We will be there again with local musician Timothy Brown this Saturday, July 22nd and on August 12th with NCS PFAA student, Sabriyah Belarmino.
Please come by, enjoy some great music, pick up a NAEF reusable grocery bag, and fill it with all the delicious veggies found at the farmer's market.
Providing performance opportunities like this to young artists in the community is a direct reflection of our mission to promote and support the arts in Natomas and surrounding areas by providing youth and adults access to culturally enriching opportunities, while supporting a variety of local public education needs for grades K-12.
NAEF Summer Arts Camp
Our first annual Summer Arts Camp was a great success! What wonderful way to get the summer started.
The students enjoyed getting creative with daily art projects, theatre games and hip hop dance routines.
Some of the favorite art projects included, creating buttons, silhouette art, and sharpie and fire singed coasters.
The theatre portion culminated in the performance of two shows, Where the Wild Things Are and Ms. Nelson is Missing.
The dance class wrapped up with a hip hop performance including a portion the kids choreographed themselves. Take a look at the videos of the final shows here.
The camp also offered important volunteer opportunities to NCS high school students. These volunteers gave their time and shared their passion in the arts to enhance every campers experience.
In turn, these students have a valuable experience to add to their resume and college applications.